Quality Preschool Experience for Your Child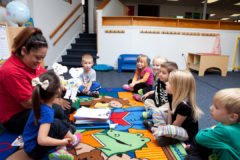 We strive to provide the best possible preschool in the Omaha area by providing an invaluable experience for your child, and that means offering them attention and affection in a structured environment. At Apple Tree Orchard, we want your child to know that every day spent in our daycare or preschool programs will allow them to learn, play, and explore the world around them.
We believe that children build knowledge and self-confidence by having the opportunity to learn new skills—and having those new found abilities appreciated by people they know and trust. In order to help your child have the best possible experience, we not only offer structured lessons about what they will need to be successful and happy when beginning the school years, but the chance to be creative, playful, social, and imaginative.
Established in 2000, Apple Tree Orchard is a single-site, family owned and operated preschool and childcare center located in Papillion, a suburb of Omaha.
Parents & Creating the Best Possible Environment
Parents are critical to the success of our preschool and childcare programs at Apple Tree Orchard.  Although we care about the children and help and encourage them in any way possible, we never forget that you—the parents and caregivers—are the most important people in your child's life.  To learn more about our daycare, early childhood education program, and preschool curriculum in Papillion near Omaha, call Apple Tree Orchard today at (402) 827-7537  or contact us online.