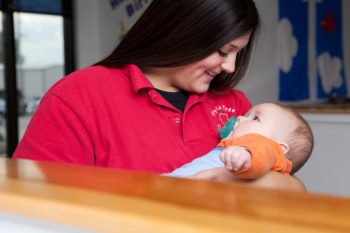 Infant Daycare in the Omaha Area
When you leave your child with our infant daycare, we understand there's a lot of trust on the line. Each member of our daycare staff takes this role very seriously and treats your child like we would our own.  Your infant's first year of life is full of change and growth. Infants require a lot of care, from frequent feedings to diaper changes and cleaning. Leaving your baby in the care of another can be scary, which is why it is so important to find a trustworthy and knowledgeable nursery to care for your baby while you are at work.
Worry Free Nursery in Papillion
When you need a trusted infant daycare center for your baby, turn to Apple Tree Orchard in Papillion. We provide daycare services for infants six weeks and older all the way up until children reach kindergarten age. We offer both full-time and part-time care to fit your unique schedule and child care needs. Call us today at (402) 827-7537 in the Papillion and Omaha area, or Contact Us Online to learn more!