Child Care And Preschool Programs in Papillion
When choosing a child care program for your little one, you want options. No two children are alike, and you want to find an early childhood education program that fits your child's unique needs and personality.
According to research, early childhood and preschool programs can have a positive impact on a child's academic performance, social skills, and overall well being. Children who attend preschool are more likely to do better in later grades and are less likely to require remedial services. In addition, a preschool education provides an opportunity for children to interact with their peers and learn important social skills such as cooperation and communication. Early childhood education is an investment in our future, and it is essential for ensuring that all children have the opportunity to reach their full potential.
Each of our toddler programs is designed to engage as well as entertain. Is your child enthralled with the sound of music? Are you constantly catching your kiddo twirling around the room? Does your little overachiever thirst for learning opportunities, no matter the subject?
We can help you secure the preschool programs you and your child will appreciate in years to come. You are sure to find the educational environment that suits your child.
Our educationally-based preschool programs provide a great balance of challenging curriculum and fun, interesting activities. Apple Tree Orchard believes in providing more than just the basics; we structure our programs around activities that promote deep thought and learning as well as prepare your child for kindergarten. From dinosaurs to inventors throughout history, our educators cover a wide range of topics to give kids a chance to explore their imaginations and ask questions.
Learn more about our different types of preschool programs below or call to begin the enrollment process!
Apple Tree Orchard Infant Daycare
We know how much trust it takes to leave your infant with someone else, which is why we work hard to prove we are the infant daycare you can trust in Papillon. Our childhood education professionals are trained in infant care and find joy in providing babies with what they need. Social interaction and physical development are important at the infant stage, and we ensure that infants get plenty of cuddles, attention, and love as well as tummy time, sensory development, and motor skill development. Learn more about our infant daycare here.
Toddler Programs Care at Apple Tree Orchard
There's almost nothing as exciting as watching the way a toddler learns and develops from day to day. At Apple Tree Orchard our toddler programs are designed to maximize this period of rapid change and growth. In the time between one year old and three years old, most toddlers begin walking and climbing, showing personality, speaking in sentences, and showing curiosity by asking questions. This is the time to begin laying the foundation for your toddler's childhood education, as the experiences they have now can have a great impact on their development. We pride ourselves on toddler programs that are designed to encourage your toddler to develop into a well-rounded child. Learn more on our toddler daycare page.
Preschool Facility for Child Education in Papillion
Apple Tree Orchard's preschool combines fun and education to create a learning environment that will encourage your child to thrive. For nearly two decades, we have been the greater Omaha area's choice for family-owned child care and a top-rated preschool education. Our extensive pre-k programs - offered at no additional cost - foster growth and excitement toward learning. This is also a great opportunity for your child to develop the social skills they will need to be well-adjusted students throughout their education career. Discover more of what our preschool has to offer here.
Summer Daycare and Summer Preschool Programs in Omaha
We provide childcare services and preschool programs throughout the year, but we also offer unique summer programs. If you need childcare, infant care, or camp in the summer, Apple Tree Orchard is the place for you. Your child will receive all the same excellent programs offered during other seasons, but we have special summer programs and activities as well. For instance, our summer program includes water days, special summer toys, outdoor adventures, sports, STEM activities, special guests, and more. Our traditional academic curriculum won't stop during the summer months, but we do add in some special summer fun for children in all of our age groups.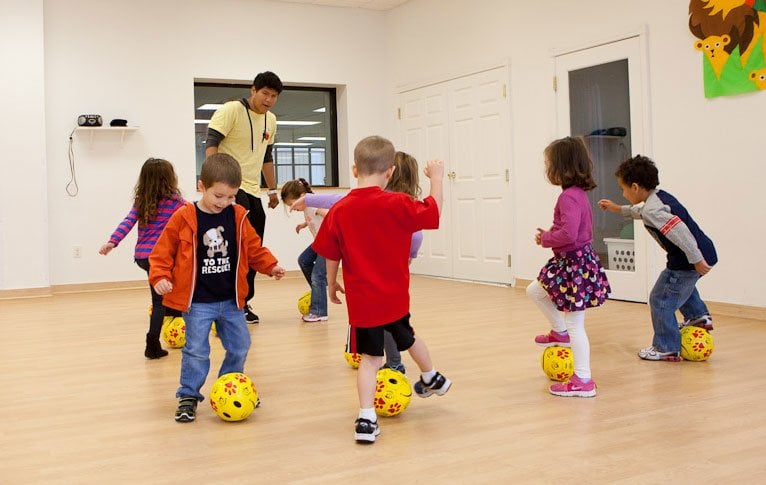 PROGRAMS WITH A PURPOSE IN PAPILLION
Our educators in charge of our preschool programs understand that your children need a rounded preschool program education to help prepare them for the education they will receive in the future. We are dedicated to the social development of your child as well as to their academic success. We've created an age-appropriate curriculum for each of our programs that supports their childhood education and sets them up for future success. We know your child will blossom here at Apple Tree Orchard.
In addition to offering stimulating programs and classes that your child will love and learn from, we offer a flexible schedule because we know that not all parents have the same needs. We offer full-day programs and part-day programs. To learn more about our preschool, Pre-K, and toddler programs, call Apple Tree Orchard at (402) 827-7537 or Contact Us online today.