Daycare Center Amenities, Preschool Projects, and Programs
Preschool curriculum isn't just for learning ABC's. It should inspire curiosity and creativity, build community, and encourage movement. Apple Tree Orchard Preschool and Childcare creates the perfect environment for just that with stimulating preschool programs and projects, cheerful amenities and facilities, and an unwavering commitment to safety for the best early childhood development available.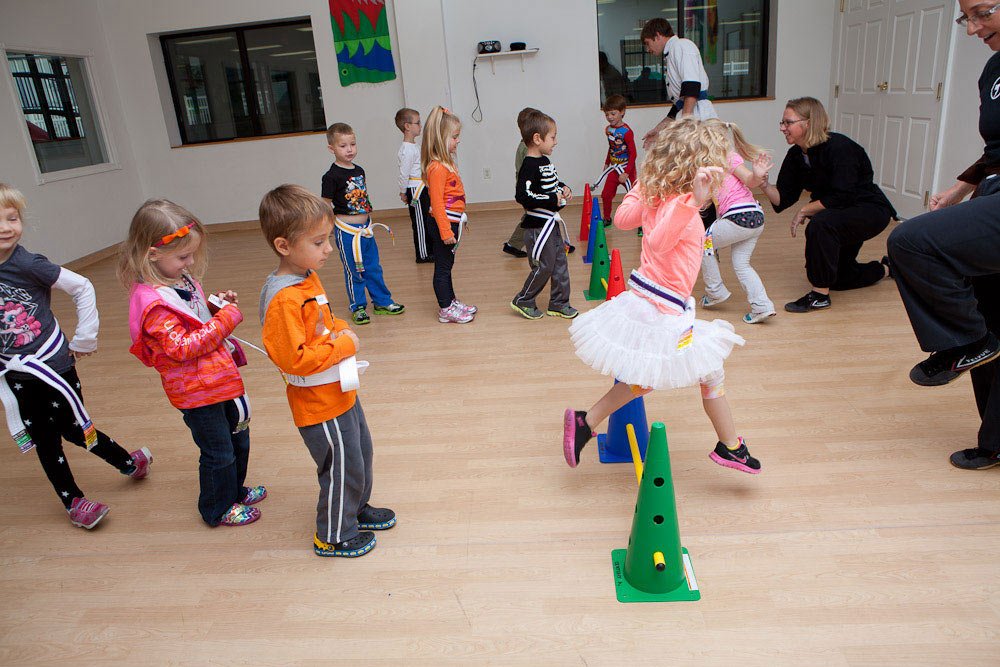 Child Development Projects and Programs for Preschool
Each month, we offer new opportunities at our daycare center for your child to learn and grow through special preschool programs and projects. Each one is tuned towards providing an exciting, new, and stimulating learning experience for your child. Some of these projects and programs include the following:
Monthly art history program
Daily preschool projects
Science experiments
Lots of special guests and parties every few weeks, such as:

Firemen
Magician
Cowboys
Balloon artist
Valentine party
Trick or treating
Holiday parties
4th of July celebration
Preschool Graduation
Preschool Amenities and Facilities
In some cases, the learning environment is just as important as the lesson itself. When it comes to early childhood development, a safe, responsive, and nurturing environment is a key part in supporting learning and growth. Research has shown that making changes in the classroom environment—such as implementing activity schedules, rearranging the furniture, and providing altering instructions given around routines—increases the probability of appropriate behaviors and effectively decreases the probability of challenging behaviors in young children.  That's why we've placed an emphasis on creating a space for our students that encourages intellectual, physical, emotional, and social growth. We ensure your child's physical environment (the overall layout and design of our daycare facility), social environment (interactions between children and caregivers), and temporal environment (timing related to routines and activities throughout the day) are maximized for their benefit. Here are just a few features of our daycare center:
3 large outdoor playgrounds
Tot-sized room designs, including sinks at just the right height
5 Supervisors available to help staff and parents
Clean, colorful, and fun environment
Offer full & part-time schedules
Security and Safety
Part of creating an environment fit for learning is ensuring that each aspect of safety is well thought out. When you or your child is worried about injury or harm, neither of you can focus on what preschool is all about. At Apple Tree Orchard Preschool and Childcare, we've implemented security features throughout our preschool and daycare facility to ensure that safety is never a concern.
Locked proximity entrances with key fob security access for parents
6-foot playground fences
48 internet cameras that parents can access through individual password-protected portal providing real-time and up to 24 hour archived images
Open format provides the ability to see and hear throughout the building
Convenience

Easy access from car-to-door
Convenient location in downtown Papillion
The Transition From Home to Daycare Center
For many parents, the first time they enroll their kids into a preschool or daycare center is a big milestone for the family. There are so many factors to consider when choosing the right daycare facility, and you want the absolute best for your child. Apple Tree Orchard Preschool & Childcare is the preschool you can trust for your family's childcare and development. We want you to feel completely comfortable knowing that your preschoolers are in good hands with our team of caring childcare staff members. At our child development center, we help your preschoolers learn and develop through appropriate activities, preschool programs, and fun projects that will keep them entertained and engaged.
Find Preschool Programs and Daycare Facilities in Omaha!
We provide families with preschool, childcare, and daycare in Papillion and the Omaha area. Learn more about our childcare rates and daycare rates.