Trusted Infant Daycare in Papillion
A family child care center that provides safety, an age-appropriate curriculum, and social-emotional development, all at affordable prices. Quality caregivers are right here—at Apple Tree Orchard Preschool & Childcare.
Personalized Care For Your Baby
The first year of life for your infant is full of change and growth. Infants require a lot of engaging care to encourage mental and physical development as well as the advancement of social skills. They also need frequent feedings, diaper changes, and cleaning. Leaving your baby in the care of another can be scary and stressful, which is why it is so important to find a trustworthy and knowledgeable child care center to watch over your baby.
Safe and Engaging Infant Daycare
We understand how much trust you place in child care services – and you want to know your child is in good hands. Our infant daycare is designed to offer a safe and secure place with knowledgeable childcare professionals who honor your family's routine and wishes. At Apple Tree Orchard Preschool & Childcare, our professional caretakers are focused on the welfare of your child, providing a safe and engaging infant daycare and child care center for children to grow and learn in. We want to help your children develop appropriately mentally and physically and find that love of learning that is so essential in the early years of childhood education. Allow our child care providers to shower your infant with the attention and affection they need.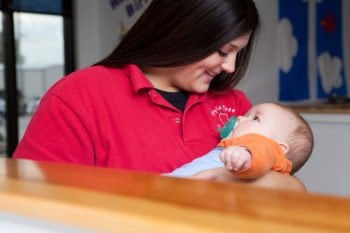 Interactive Daycare Facility in Nebraska
At Apple Tree Orchard, your child's safety is our number one priority. Our facility has key fob security access so that only current staff and parents have unrestricted access to the building. We also provide internet camera access for all currently registered parents. Parents can view any one of the 48 cameras we have throughout the building at any time. Our playground fences are six feet high, and we require all visitors to enter and exit through the front of the building for added security.
Questions About Childcare for Babies? We've Got Answers
If you have never put your baby in an infant child care program before, you may be feeling overwhelmed, scared, and unsure of what direction to go in. Take things one step at a time, and you will find what's best for your baby and your unique child care needs. Everyone has a different experience, so don't compare yourself to others.
If you need daycare for your baby, the best thing you can do for yourself and your child is find a program that makes you comfortable, that you can trust, and that meets your early education expectations. Here are some answers to frequently asked questions our daycare receives.
What types of programs do you offer? 
We offer a wide range of programs designed to meet the needs of each age range of children. For our infants, we provide a low teacher-to-child ratio, tummy time, plenty of cuddles, age appropriate toys for learning and motor skills development, and a secure environment where they can explore and grow safely.
Is daycare better than using nannies?
Daycare is different from the child care option of a nanny. Daycare provides a structured environment where your baby gets to do a number of different activities each day and is kept safe in one location. Socialization is a plus to daycare that a nanny may not provide, and daycare allows for the implementation of early childhood education.
Is daycare affordable?
Apple Tree Orchard offers affordable prices for infant child care. Our rates may be more affordable than those charged by a babysitter or nanny. Give us a call to find out more about our rates and discounts.
Does your daycare meet all state regulations?
Yes! We take pride in creating a safe place for infants and children to learn and grow. We meet all state licensing requirements and can show you more information during a tour of our facility.
Worry-Free Infant Child Care in Papillion
When you need a trusted infant daycare center for your baby, turn to Apple Tree Orchard in Papillion, NE. Our child care center provides daycare services for infants six weeks and older, all the way up until children are ready for kindergarten. We offer both full-time and part-time care to fit your unique schedule and child care needs. For more information about our infant care services, or for pricing, call us today at (402) 827-7537 in the Papillion and Omaha area. Contact Us Online to learn more!
See What Parents Are Saying